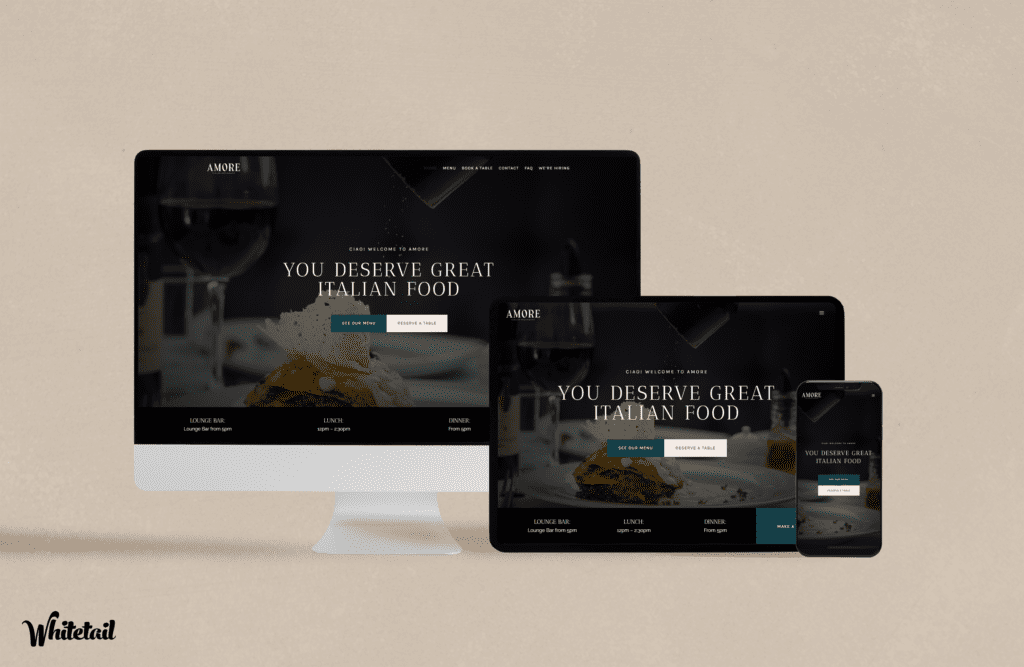 Get more from your website
Tailored for hospitality
Welcome to Whitetail Websites, your one-stop-shop for stunning, professional and affordable restaurant website design and development.
We understand that your restaurant is more than just a place to eat – it's an experience. That's why we're dedicated to creating websites that capture the unique essence of your establishment, and communicate it to your customers in a way that drives traffic and revenue.
We pride ourselves on our personalized approach, attention to detail, and commitment to delivering exceptional results. We understand that every restaurant is unique, and we work tirelessly to ensure that your website is too.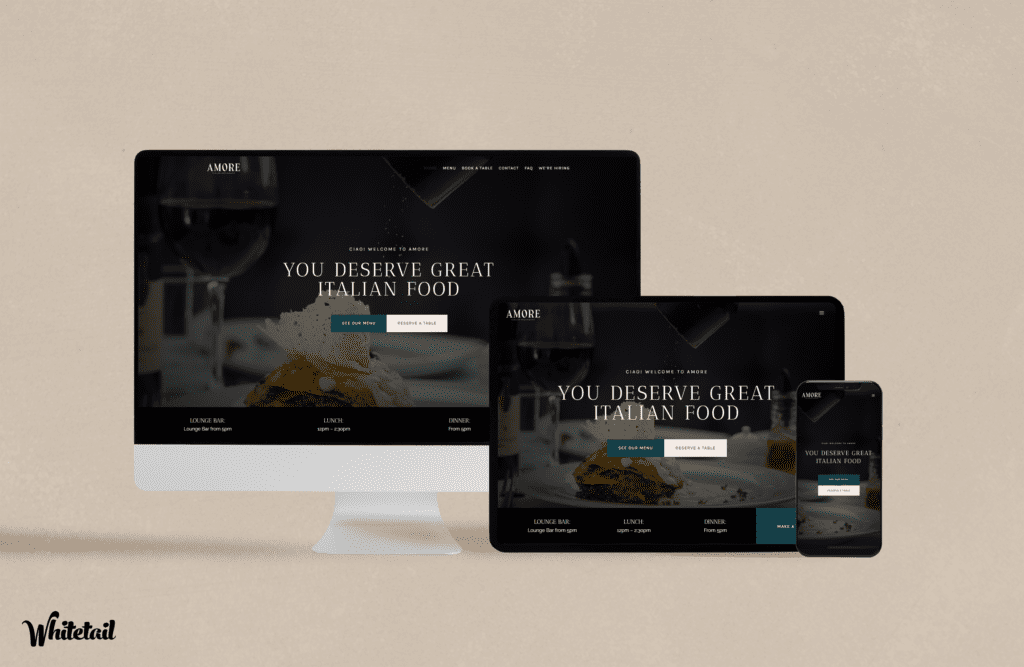 How can we help improve your restaurant's website and increase engagement?
Restaurant websites have become our 'bread and butter', and with that has come the massive benefit of being able to discover exactly what works when it comes to bringing hospitality businesses online from first hand, 'trial-and-error' experience.
From menu design and online ordering to reservation systems and social media integration, we take care of every aspect of your website, so you can focus on what you do best – running your restaurant.
We also offer a range of additional services to help you grow your business, including search engine optimization (SEO), online advertising, and social media management. Our goal is to provide you with a complete online presence that reflects your brand, engages your customers, and drives growth.
Believe it or not, your most viewed webpage will be your Menu page, it's the first thing people seek when looking for a place to eat. Allow customers to check ahead online, anytime, anywhere, before they book. Or scan a QR code that we can provide at their table to view your menu. saving time and paper whenever changes need to be made to the menu.
Take control of your Takeaway and Delivery services by allowing your customers to order directly from your website, cut out the costly apps or simply give it a try as an extra revenue stream built on top of your existing business.
Online booking may be one of the most powerful tools a restaurant can have. Allowing customers to book from any device at their convenience and reserve a table. Spend less time answering calls and messages and let your website do the work for you. We can help you set up a new booking system, or integrate an existing one.
Showcase your events or sell tickets. This feature is a great way to get the word of your event out there and a stress free way to manage them.
Get Started
Whether you're a new restaurant just getting started or an established business looking to take your online presence to the next level, we're here to help. Contact us today to learn more about how we can help you create a website that reflects the heart and soul of your restaurant.